Hitwicket is an AI-powered multiplayer mobile cricket game. The user is an Owner, Captain and coach of a virtual cricket team and competes with other users for glory. Hitwicket's pioneering journey incorporates the use of new age technologies like Artificial Intelligence, Machine Learning for the first time ever in Sports.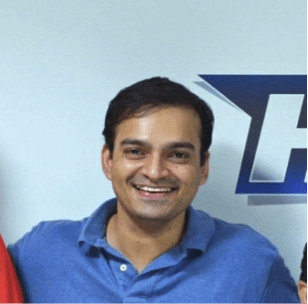 Kashyap Reddy is the CEO & Co-founder at Hitwicket. Kashyap has been designing board games since he was 11 and later graduated as a Comp Science Engineer from VIT, Vellore. Following graduation, he gained international experience in web development and UI/UX designing.
In an interaction with IncubateIND, Kashyap Reddy talks about the role of AR/VR in changing the world of Gaming. Read on!
Tell us something about yourself and what does Hitwicket do?
I've been designing board games since I was 11 years old and later completed my graduation in Computer Science from VIT, Vellore. As an avid Cricket fan, I was drawn to the idea of creating the most immersive gaming experience for a global Cricket fan. With Hitwicket we are creating a virtual world where the user plays the role of an Owner, Coach and Captain of a cricket team and competes with other users for glory. 
Our pioneering journey incorporates the use of new age technologies like Artificial Intelligence, Machine learning for the first time in Sports. We were selected among the Top 10 Global Sports startups by HYPE, UK for our AI powered match engine which simulates the most realistic outcome of a match between teams of varying strengths.
Is cross-platform play the future of online gaming?
From a non-existent market to surpassing the Global Movie and Music revenues within 16 years, the rise of Mobile gaming has been phenomenal. With $70 billion revenue in 2018, mobile gaming now accounts for more than 51% of the overall games revenue.
Unlike the West, India and many other developing countries are mobile first in gaming with users having their first experience of playing a game on a mobile device and not a PC/console. Mobile gaming in fact has been one of the most revolutionary outcomes of the technological advancement.
It is interesting to see that a lot of PC and console gaming companies are introducing mobile games to capture the fastest growing mobile gaming market. The Top Global Mobile gaming companies on the other hand have been extremely focused on creating high quality mobile games. Engaging users on a mobile game comes with its unique set of challenges and demands an approach specific to addressing the needs of the mobile gamer.
For mobile first countries like India, the future of online gaming will be mobile esports IP that can drive the masses to play competitively on their mobile devices.
Will AR/VR change the world of gaming? How?
Technologies like AR/VR will augment the gaming experience for users. Video games or Mobile games that integrate AR/VR can enhance the engagement among their users. However, pure AR/VR driven games would be a niche market in online gaming and it would take a while for such games to become mainstream.
What is the role of Big Data and predictive analytics in online gaming?
Unlike apps where a user interaction is limited and confined, Games generate a ton of data per user with the numerous ways in which the user interacts inside the game and engages with the different features. Analyzing the game data for understanding user cohorts and for customizing user experience has been a core fundamental of all the Top Gaming companies. Data driven decision making is an integral part of game design.