The basic necessity apart from food, clothing, and shelter is education. This concept is not necessarily accepted by all but the truth is that education is the key to everything. Education empowers the mind to receive good thought and to create one. It is an indispensable need to live in this modern world. The industrializing and the urbanizing world is possible only due to increasing technology which is indeed caused due to the educational qualification of the people. Education, due to its large significance is turning tech-driven. Technology is changing the traditional way of the education system and bring forward new and advanced educational format.

Internet Of Things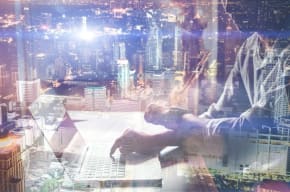 The connectivity of physical devices and objects with the internet is basically the internet of things. Today the internet has reached almost every part of our lives and is continuously making our lives easier. Embedded with electronics, Internet connectivity, and other forms of hardware, these devices can communicate and interact with others over the Internet, and they can be remotely monitored and controlled.

Internet Of Things Application In Education Sector

Smart Boards
Traditionally only a single methodology of teaching was present which composed teaching using the blackboard and chalk. It enabled only 2D representations of things that neither drew the attention of the student nor generated self engagement. With new technologies, blackboards got replaced by smart boards, it enabled practical learning experience to the students. It facilitated the lecturers to take the assistance of online display and films. This, in turn, made the learning experience more effective and fun-filled.

Attendance monitoring

If calculated altogether a lot of time is wasted in taking attendance forming the attendance sheet, calculating the data, etc. To minimize this loss, manual attendance has been replaced by digital attendance. It immediately feeds data and maintains the accuracy of details. It helps in easy monitoring of the attendance of the student and provides easy access to the attendance sheets for parents to easily observe the activities of the students

Fun learning
Various gaming platforms are present that have incorporated learning and games together. It is designed in such a way that we can get to learn while playing games. It is one of the best techniques to teach younger students as learning becomes more effective when we use both the senses of listening and seeing together. Therefore learning becomes much simpler with this gaming experience.

24×7 Learning

With internet availability, eLearning has been achievable. Before education was only confined to the classrooms which provided learning for a limited time and at a fixed place. But IoT has made education reach home. Anybody having access to the internet can learn online through various educational websites and apps. People can also download books, novels, Pdf, Study material, etc and read from them. Online test series, guides are also present which provide a real-time learning experience to people.